Payment
Now ES Doll accepts the following three payment methods, Please let me know which one you prefer so I can offer the information.

Part I
Pay with PayPal accounts  or credit/debit cards from the cart page.
No need to go to the next step "Proceed to checkout" to fill shipping information, Select the "PayPal checkout" yellow button or the "PayPal Credit" checkout blue button to pop up the dialog box. The shipping information and billing information are directly filled in the PayPal checkout payment gateway.
If you have a PayPal account, just click the PayPal button to pay. If you do not have a PayPal account, please select credit card payment and click the Visa®,MasterCard®,AmericanExpress®,Discover® credit card icon to pay via credit card online payment.  Accept all major credit and debit cards – Visa®, MasterCard®, American Express®, Discover®, Diner's Club, and JCB, Accepts payments in almost any currency.
Features & Benefits
Payment processing occurs on Paypal servers so you don't have to worry about handling sensitive payment information on our site.
This payment method skips the proceed to the checkout process, and customers leave your site from the Cart page to complete checkout through PayPal.
PayPal Checkout is meant to reduce the amount of data entry (and possible error) required by the customer. To achieve this, PayPal Checkout sends the customer's billing information after they log into PayPal and authorize the transaction.
Typical scenario:
Customer adds products to Cart
Customer reviews Cart page
From the Cart page customer selects "Checkout with PayPal" button
Customer is redirected to PayPal, and our website:esdoll.com sends the subtotal of the order, customer info, and shipping address to PayPal (Customers can still enter a new shipping address).
Customer logs into PayPal and authorizes transaction
PayPal redirects customer back to our website:esdoll.com and sends authorization token and customer billing information
On our website:esdoll.com Review Order page, customer view order any details.
Customer finalizes the order, and the transaction is completed with PayPal using order Grand Total.
Part II
Click 'Proceed to Checkout' button jump to checkout page 
2. Paypal Standard Payment(Recommend)
We also accept credit card payment through PayPal payment system. PayPal payment system supports VISA, MasterCard, Discover, eCheck and PayPal.
PayPal is the safest way to pay online, even if you don't have a PayPal account you can still pay with debit or credit card through PayPal.
Choose a way to pay:
With a PayPal Account
1. During checkout choose PayPal
2. Log in to your PayPal account
3. Complete the transaction
4. You will receive an email once the payment has been processed and received.
With Debit or Credit Card through PayPal
No PayPal account needed!
1. During checkout choose PayPal
2. Scroll down to the option to "Pay with Debit or Credit Card"
3. Complete the transaction
4. You will receive an email once the payment has been processed and received.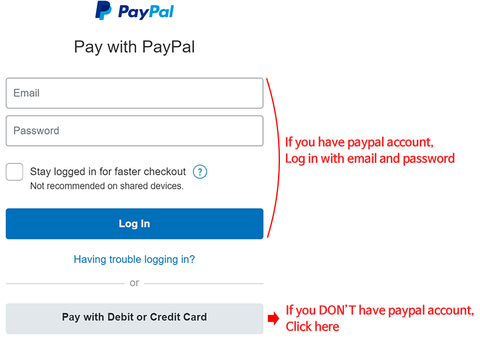 3. Credit Card Payment
We accept Visa, MasterCard from most locations worldwide. When our credit card gateway payment shows what is failed, Maybe there is some technical problem about our credit card payment gateway limit:
1) Whether credit card Exceed the maximum amount by the bank limit or Reveal high risk, Please contact the bank to remove the restrictions.
2) We advise trying PayPal checkout, PayPal standard payment.
All of our Paypal gateway multiple payments for credit cards are currently the most popular and easy payment method(No credit card limit is imposed, No need for PayPal account).