Wanna buy sex doll online but not sure how?
Tell You "How to Buy" adult products on esdoll.com.If you've never purchased anything online before, how do you get started? We will tell you 3 simple steps to buy your adult products at esdoll.com.
Step 1:Find your item.
Enter your keywords or sku into the search box located at the top of any page head, or browse through the doll name and the list of categories on the top of any page.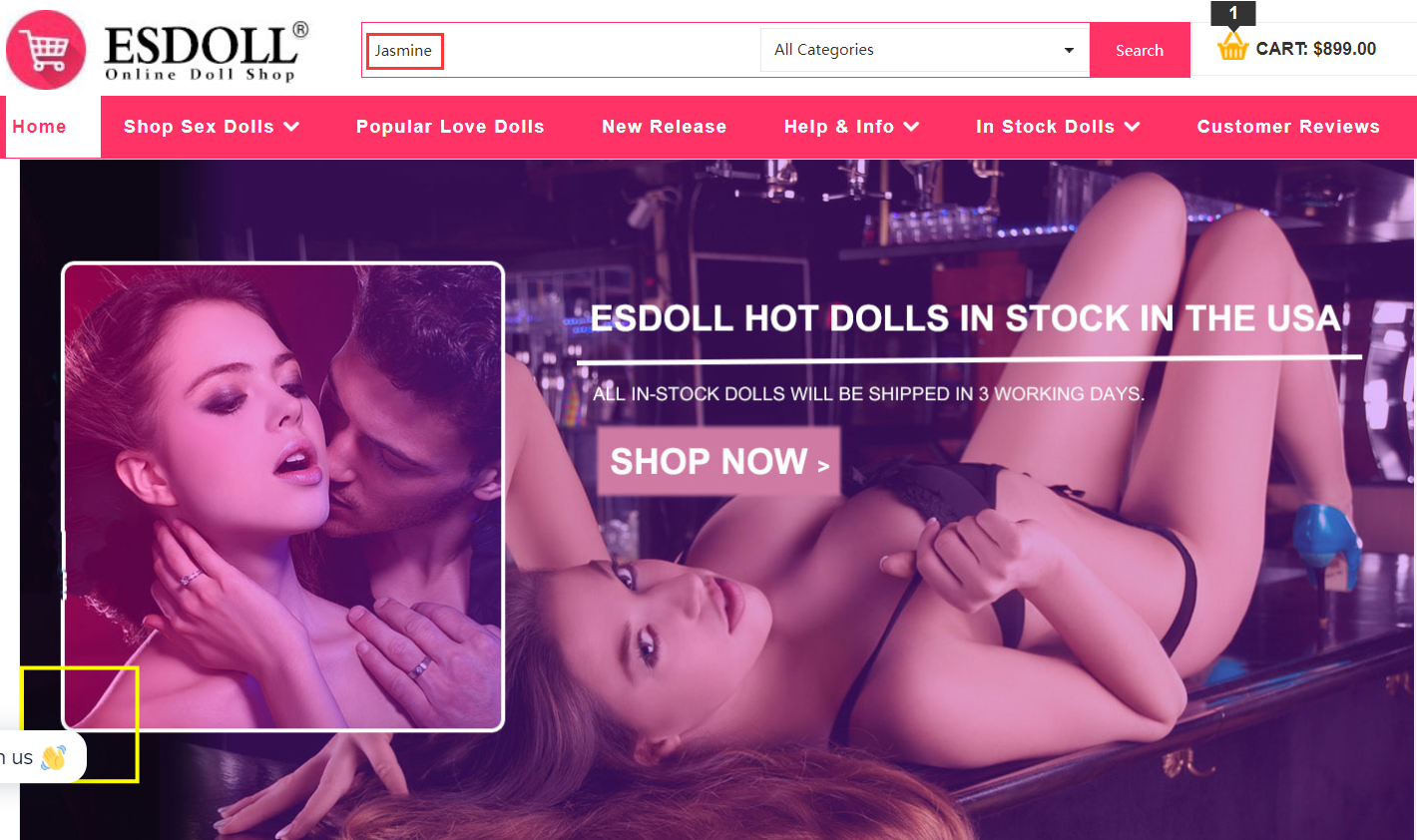 Step 2:Learn about the item you found.
For example, search for "jasmine",Then click to read the item description carefully.
if there is in stock in USA/EUROP, Check the doll specs when you scroll down in the doll page description and then click 'add to cart' after selecting US / EU WareHouse In stock (3-5 business days) by default,
if there are many doll custom option in the doll page and customize it with the options listed after selecting options, it will be shipped out by doll factory(9-15 work days).
Step 3: Buy Items Online.
Step-by-step instructions help you buy online at esdoll.com.
"Add to Cart" & "always express free shipping"
"Shopping Cart"(https://www.esdoll.com/cart/)
Go to your Shopping Cart and Check out the items you order.You can check the Qty and total price of products and pay by paypal or credit card button complete the payment. Once the payment is completed, Congratulations!! you have completed the shopping process on the cart page,(refer to : payment methods).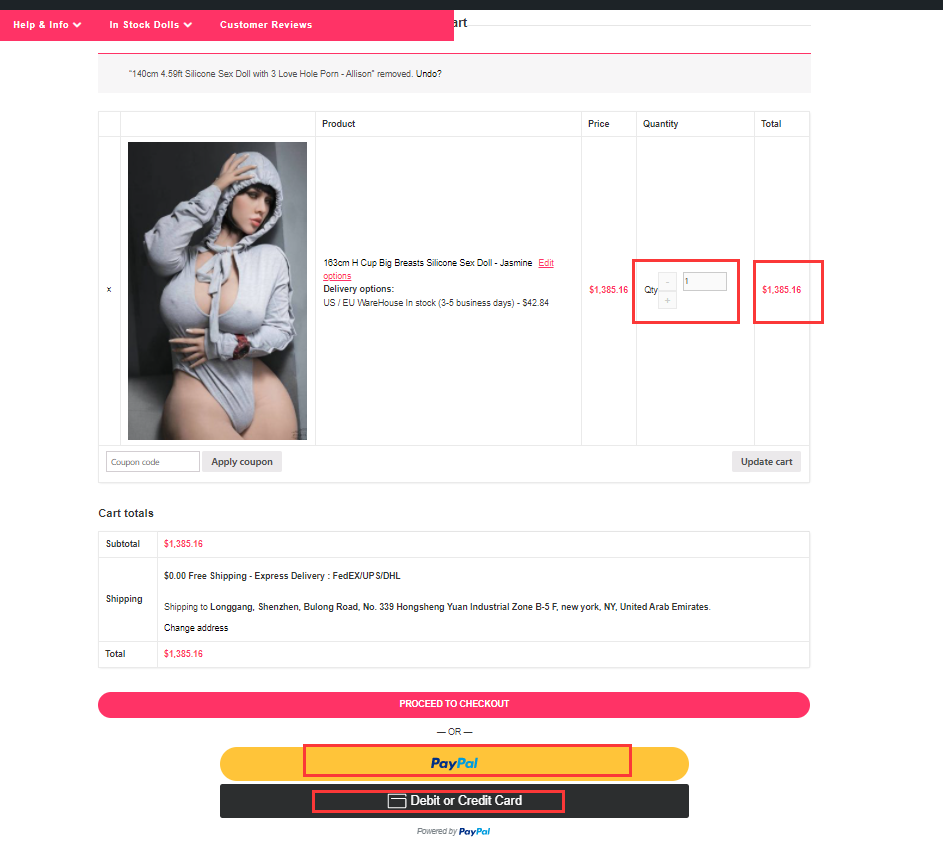 Or Continue to "Proceed TO Checkout"(https://www.esdoll.com/checkout/)
continue to purchase by clicking the "Proceed to Checkout"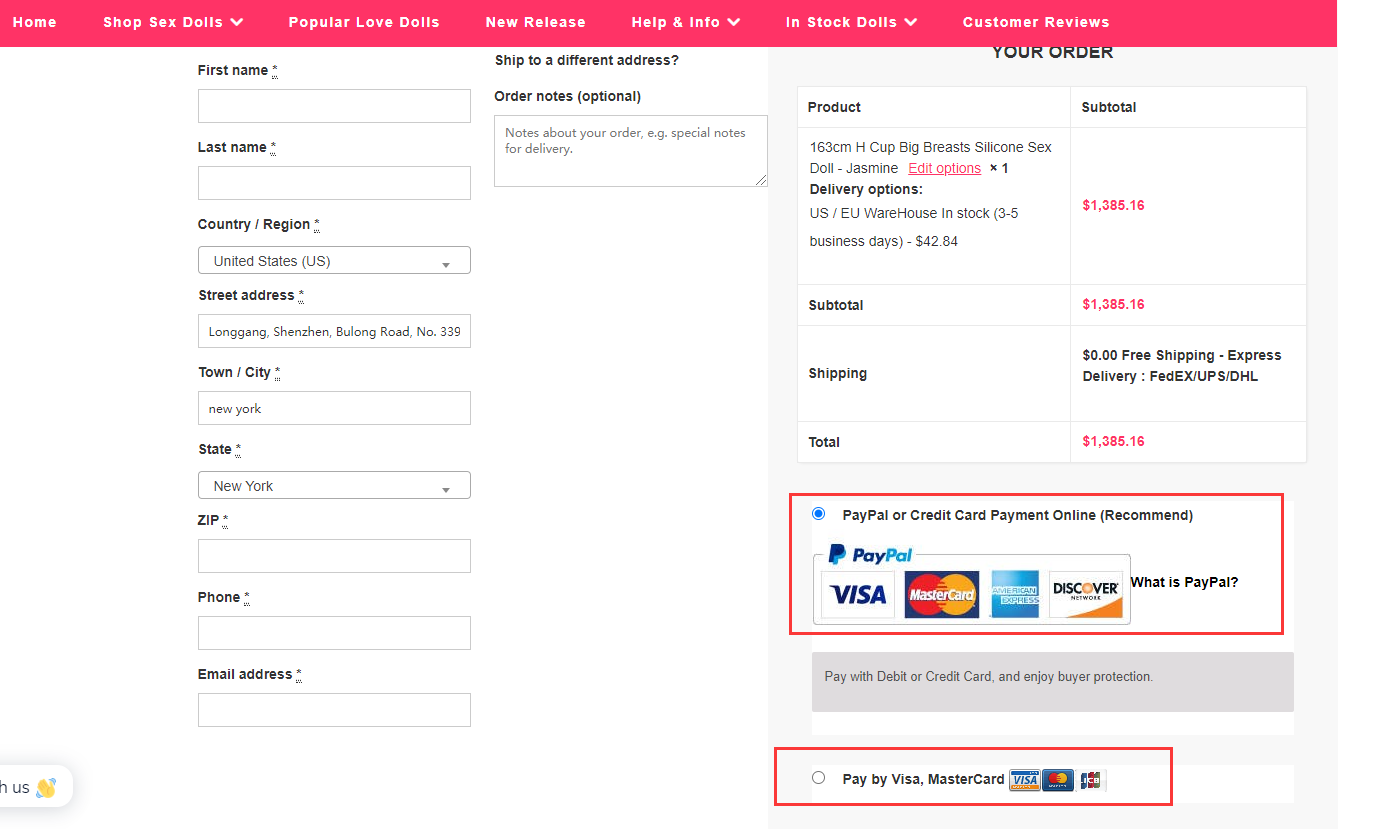 Note:No matter which payment terms you choose, you need to add you shipping and billing address (They may be the same). Your address will be saved. And then go to select the shipping and payment method.
More Tips:
1. If you have some special notes or requirements, write them down in the box of Comments.
2. Click"Place order now". to finish your order.
3. Any problem with your payment, you can contact us by "Live Chat", email us [email protected].
Step 4: Track and Receive Your Goods.
Once you have paid your order successfully, we will deal with them as soon as possible. And a tracking number will be sent to your mailbox. You can track your goods by this number on DHL/FedEx/UPS website.