U.S. sex toy market size from 2016 to 2028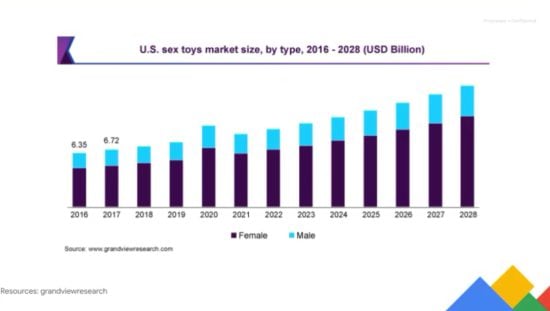 The data shows that compared with the market size in 2020, the sex toy market in the United States will drop by nearly 9% in 2021 due to the impact of the epidemic, but the impact is not very large. It will resume its growth trajectory in mid-2022 and continue until 2028. ; The size of the US sex toy market will continue to expand, and in the sex toy category, the vast majority of the audience comes from women. For sellers, think more about what women care about most when buying sex toys.
Under the epidemic, the development trend of the US sex toy market also confirms the changes in consumer demand from the side. It is understood that in 2021, the US sex toy market will reach 50 billion US dollars, and it is expected to reach 100 billion US dollars in 2026, with a compound annual growth rate of 20%; under the epidemic blockade, the sexual activity between individuals has increased, which has led to Rising demand for sex toys using sex dolls, dildos, small sex doll torsos, butts and massage products; driven by rising LGBTQ (sexual minorities) numbers and changing regulatory environment resulting in cock rings, masturbation toys and vibrators More of these products are used more frequently.
Over 60% of U.S. consumers choose to buy sex toys online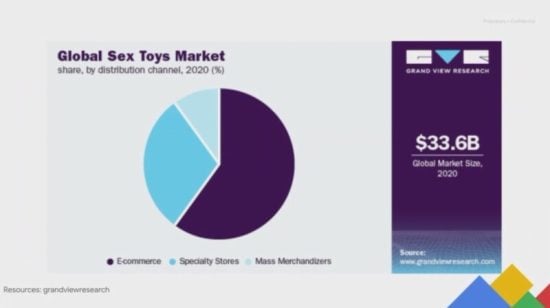 As can be seen from the above figure, more than 60% of users choose to buy sex toys online. After selecting high-quality products and determining the target audience, sellers can compete on the user experience of the website, such as privacy, operation, packaging, and other aspects to enhance the shopping experience of consumers.
Compared with other markets, the United States and Canada have more manufacturers and retailers, which can provide more convenient access to products, and consumers in the United States and Canada are more liberal in their acceptance and tolerance of sexual lifestyles, So sellers can choose to continue to drive the growth of sex toy demand in the North American market.
Determine three aspects to consider after entering the sex toy market
Target Audience: Men, Women, LGBTQ+
Product tone: personality, sexy, young
Trends and Topics: Sex Education, Novelty, Sex Tech
In the face of continuous expansion of audience competition and rising costs, sellers are advised to think about the long-term layout of the brand's website, that is, "how to improve visitors and provide differentiated experiences for consumers".
At this time, two points should be considered: first, other products that target users may purchase, such as 23-35-year-old women who buy sexy underwear, may also buy other sexy clothes and adult role-playing clothes, and then expand the category development; third Second, highlight the brand tonality, start with content or community marketing, and at the same time coordinate with the visual experience.
Then make a user portrait based on a specific target audience:
Path analysis of purchasing consumers
Consumers' shopping journey on Google can be viewed from the perspective of Google advertising: general keywords – videos/communities – interests – visiting websites – specific keywords – decision points – purchases – final interaction.
However, due to the special nature of sex toys, the three stages of video/community, interest, and website browsing in this journey are not available on Google, so it is recommended to use Google organic search and advertising to find high-quality sex toys buyers.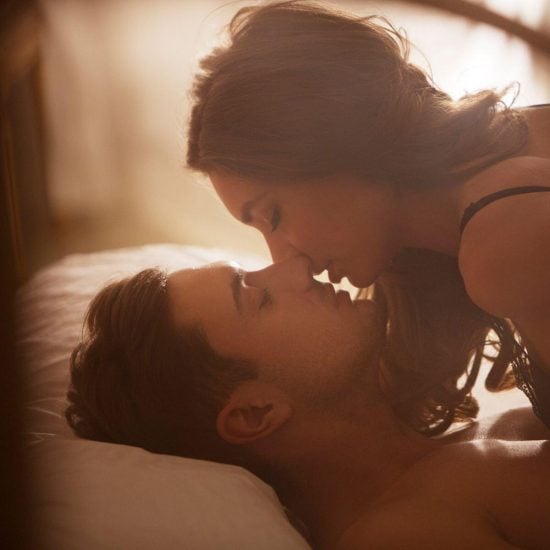 Take a male consumer as an example and study the paths he might take before buying a sex toy. For example, the product the consumer wants to buy is a realistic sex doll, and then he first searches for the best sex dolls online store and will recommend the 10 best sex doll online stores. At this time, the long-tail keywords of the product have appeared. . So when researching sex toys, it has now become very important for consumers to find high-quality sex toy products on the google search engine through keywords.