There are two vaginal types for sex dolls, fixed built-in vaginal and removable insert-in vaginal. ESDOLL recommends fixed built-in vaginal.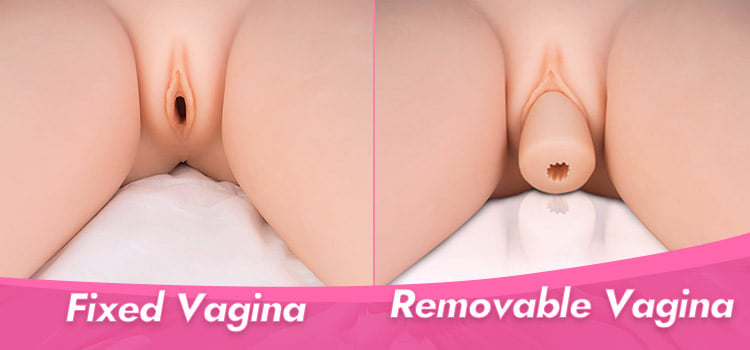 Fixed is better for experienced users and insert is better for first-timers as it is easier to clean. No difference when it comes to durability.
The fixed vagina is in-built into the body of the doll and contains a texture, much like that of a real woman's vagina, In appearance, they look the same at all.
If your sex doll has a built-in vagina, there is also another option, using female condoms. These can be pushed into the vagina and then pulled out when done so that no cleanup is necessary. However some say that it doesn't feel as good, and sometimes the female condom can break anyway, especially if you reuse them.
A removable vagina is an insert that can be removed for cleaning and washing (sort of like a Fleshlight). But the vaginal cavity is not textured, like a fixed vagina, rather the insert is textured on the inside.
With removable vaginas, you can pull out a sleeve, like a thin fleshlight, after using your sex doll. Then you only have to flush this out with warm water and soap, then dry it. You probably also have to wipe some excess lube off the labia of the doll. You can lube the outside of the insert to make it easier to insert and pull out.
Please remember to clean Built-in vaginas after using your doll. Some use soapy water and a sponge on a stick to clean the doll in place, but others recommend carrying it to the toilet or sitting it over a bucket and flushing out the vagina with a douche. Then it needs to be dried, which usually requires some sort of fan or pump (like an aquarium air pump) to ensure air circulation in the orifice. You can also use an absorbing stick to dry it. Read more about how to clean a sex doll here.